Who is responsible for the project?
Wayfarer is written by Jacek Piszczek wayfarer [at] wayfarer icu.
Additional code by Harry Sintonen, including but not limited to updating our compiler suites, libnix, pthreads and Netstack which made the port possible.
Who else?
André Siegel for his fantastic Wayfarer logo artwork and the website design
jPV for the Odyssey Bookmarks/Sessions importer
icons8.com for the toolbar icons
What tech does Wayfarer use?
Wayfarer is a port of a modern mid-2020 branch of Apple's WebKit. The WebKit integration and the browser application itself are written in Objective-C.
How can I support the project?
By donating to paypal.me/wayfarerbrowser
What are the hardware and software requirements of Wayfarer?
Wayfarer requires MorphOS 3.14 and at least 1GB of RAM. A 1.5GHz or faster CPU with Altivec highly recommended.
How to setup Wayfarer as default browser?
The configuration is very simple. Copypaste the following lines:
SYS:Applications/Wayfarer/Wayfarer "%u"
WAYFARER
SHOW
SCREENTOFRONT
OPEN URL "%u"
OPEN URL "%u" NEWPAGE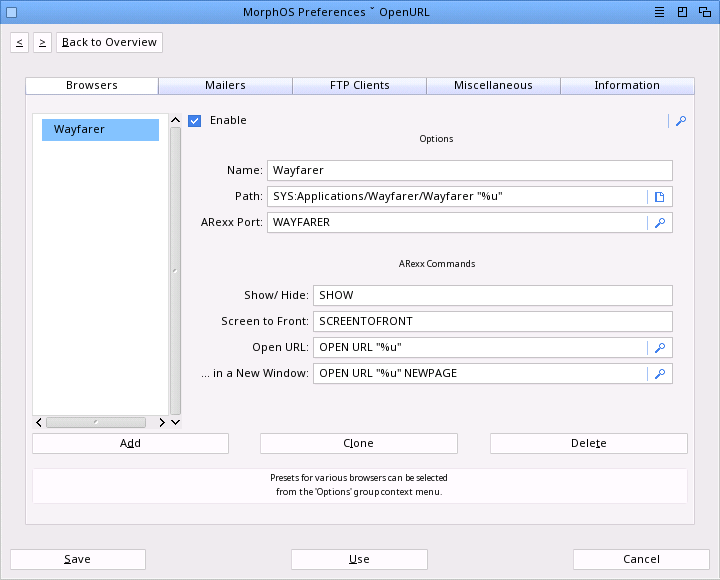 How can I update the installation?
Simply overwrite the files with the ones from the archive. Your settings & caches are safe
Why can't I have two instances of Wayfarer running at the same time?
Wayfarer needs exclusive access to local storage, caches and SQL databases.
Something does not work. What to do?
Please post on morph.zone.